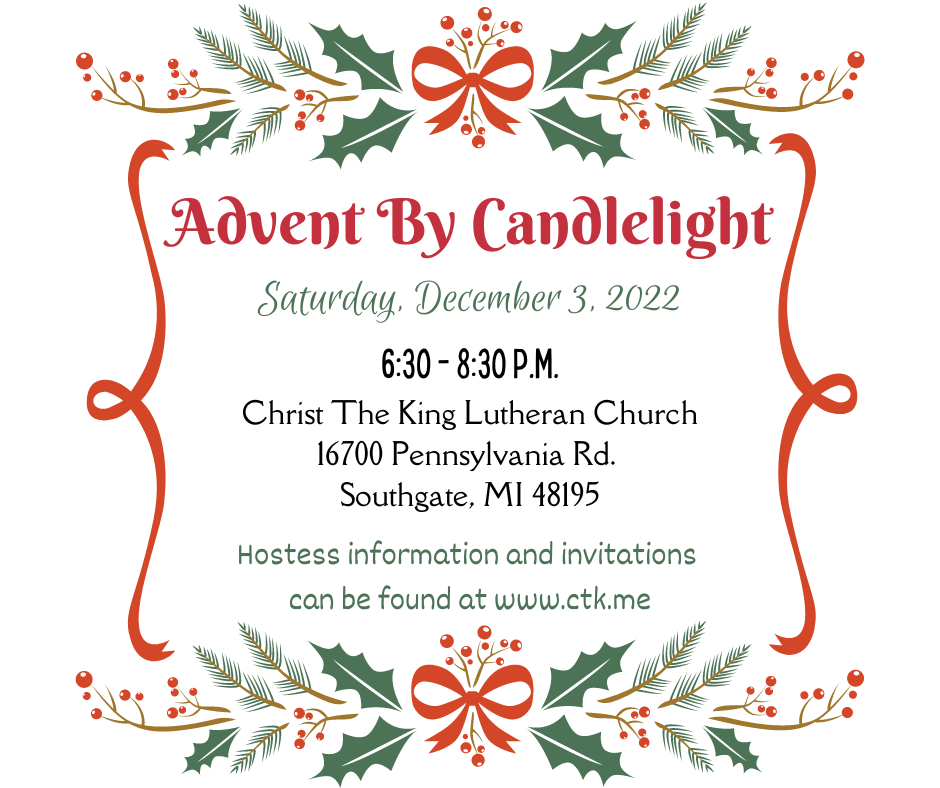 With the hustle and bustle that accompanies the Christmas season, Advent by Candlelight is a wonderful time to prepare our hearts and minds to celebrate the birth of our Savior. The women of CTK are invited to join us on Saturday, December 3rd from 6:30-8:30 P.M. at the 16700 Pennsylvania Rd Campus for this beautiful evening of food, fellowship, and the Christmas story. Host sign ups will be posted at both campuses at the beginning of November. Hostess packets, invitations, and more information can be found in the links. Please contact Jackie Brooks (jbrooks@ctk.me), Tina Pawloski (tpawloski@hotmail.com) or Karen Kerezi (kkerezi@aol.com) with any questions.
Schedule for the evening:
6:00-6:15 P.M- Hostess arrive
6:30 – 7:00 P.M. – Appetizers and fellowship
7:00 – 7:45 P.M. – Program in the sanctuary
7:45 – 8:30 P.M. – Dessert and coffee in the gym
2022 Charity Opportunity
This year, we will be supporting the Christ The King Food Pantry and ChristNet.
ChristNet provides temporary overnight emergency housing assistance
and other services to homeless men, women, and children. 
CTK Food Pantry hands out bags of food to those in need every Thursday at 3:15 PM.
We will have a table to collect non-perishable food donations and a basket with
envelopes to take a free will donation for ChristNet.